Recently, there has been an increase in the number of women enjoying golf. On the other hand, there is an image of high hurdles with golf, such as "I don't know where to start " and "How should I choose the right equipment". She is such a golf fan her official profile says: "Speciality: Golf / Hobby: Swinging a driver!". What made Morning Musume '19 sub-leader Ikuta Erina, who is a golf enthusiast, start playing golf?
I was originally interested in tennis
---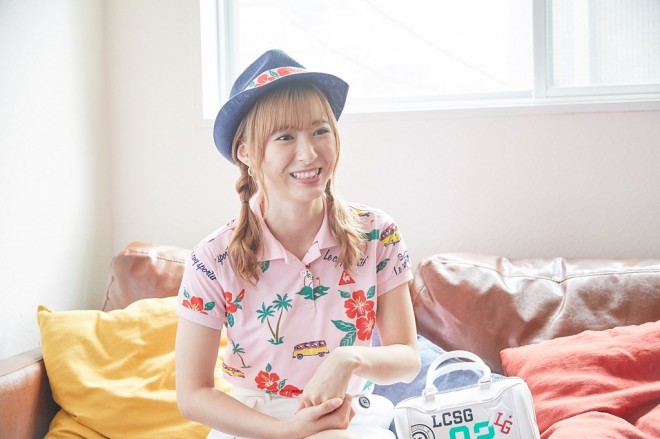 "I was recommended golf by my dad who loves it. At the time, I wanted to play tennis because of the manga "The Prince of Tennis". So I asked my dad, I was taken to a golf course attached to the tennis courts in our neighborhood and he asked me if I wanted to try golf instead of tennis. He said "Why don't you try golf instead of tennis? If you do, I'll buy you anything you like." So I tried it out and accepted his invitiation (lol)."
After that, right up until she joined Morning Musume, she went to practice two to three times a week and she became addicted to golf as her father had wished. Even now she is busy, she still makes time in her schedule to go to the golf course.
"Golf itself is interesting, but it's fun to meet new people and interact with them. When I hit a good shot, there's people I don't know who'd say "Nice shot!". I also participate in golf competitions and get to know seniors in the entertainment industry that way. Some seniors didn't know about Morning Musume and would say "I'll listen to your songs next time", thus they became interested in my idol activities through golf."
It doesn't matter if it's under a 1,000 yen - golf clubs are all about "feeling"
---
"I think it'd be too hard to go out to the golf course right away, so at first you should be practicing on hitting the ball. Many golf courses have a school attached to them, so if you start taking some classes, the teacher will ask you if you'd like to try out the course. That's how I started exploring the golf course."
As you feel yourself improving, you'll want to get more golf clubs and other equipment. There are a variety of brands and material available...
"You can buy cheap equipment at first. You can find full sets at recycle stores for about 20,000 yen. I also bought my very first set for about 5,000 yen. Even some of the golf clubs I use nowadays only cost 999 yen. If they are compatible with each other, you can use them for a long time even if they are inexpensive. So I hope people won't worry about the price and rather focus on the "feeling" of the clubs."
There is a "dress code" for golf
---
After gaining some experience at the indoor driving range, it's time to make your debut on the golf course. However, there are some "dress codes" such as "the hem of your shirt must be tucked into your pants" and "you must wear a top with a collar". Still, unlike soccer or baseball, there is no defined uniform, so there is a certain amount of freedom while thinking of the general restrictions. What kind of criteria does Ikuta-san take in account when choosing her outfits?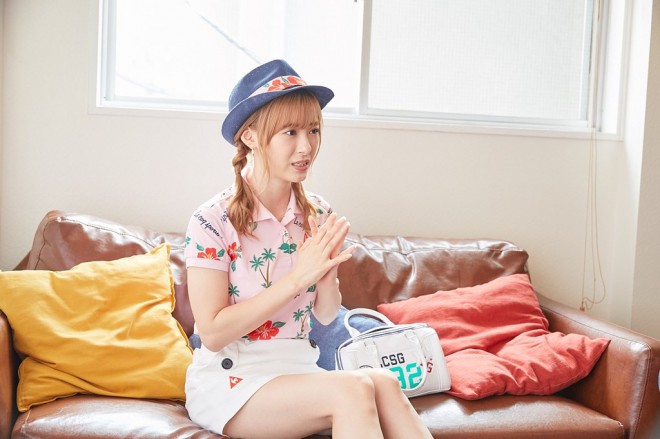 "Since it is a sport, some people chose based on the functionality, but I choose based on the appearance. When standing on the (green) golf course, even flashy items such as "pattern with pattern" look great. It's okay to match yellow pants with a pink polo shirt. I usually wear monotone colors in private, but on the golf course I wear items that I normally wouldn't wear. It really is a great sport for people who like to dress up."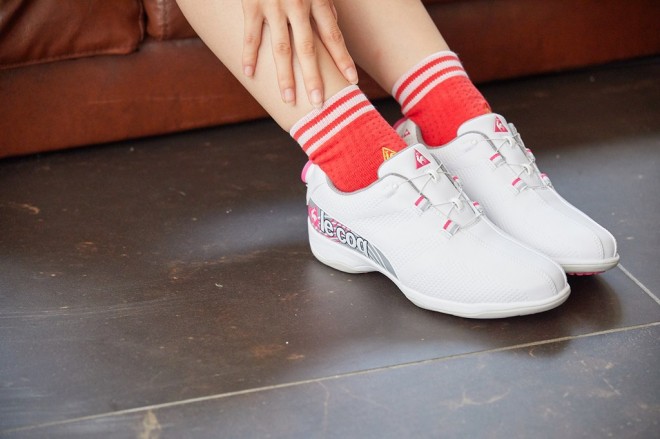 "By the way, today I tried to match a pink polo shirt with a white mini skirt. The ribbon on the hat has the same pattern as the polo shirt. Also, there is one thing I can't give up on, and that's my determination to wear a mini skirt in my outfit. When getting older, I might feel uncomfortable showing my legs, so I want to have fun while I can. Even in winter, I'm trying my best to wear shorts and knee-high socks over tights (lol)."
What did Ikuta-san think of our three coordinates?
---
This time, we have provided three coordinated examples from the latest golf wear. We asked Ikuta-san what she thought of them.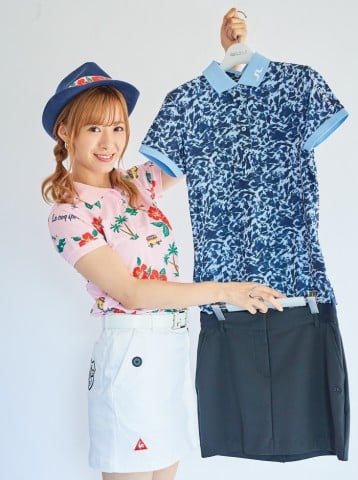 First, we have a set from J. Lindeberg. This Swedish creation features a minimalist and cool design that is typical for Scandinavia. Both the top and the bottom are made of water-absorbent and quick-drying materials, so you can play golf comfortably in the summer when you tend to sweat.
"It seems to be something that looks easy to wear with its subtle colors. On the golf course, I sometimes have to cover my head in water to avoid the heat. That's why I think quick-drying clothes are useful."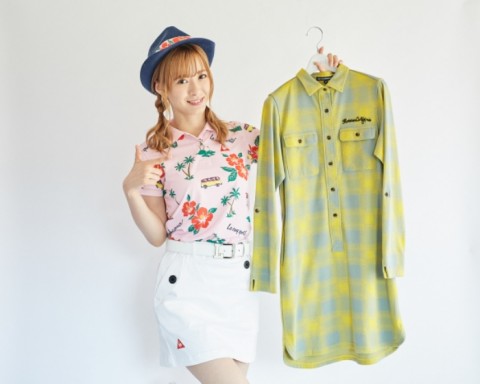 Following, a dress and hat by Rosasen. The yellow checks are made from jacquard, and the material is stretchy and smooth to touch. It could be used as casual everyday wear.
"It's the one-piece type of clothing I was talking about earlier. The silhouette is straight, so I don't think it'll come up with the wind. If I were to wear it, I would probably add a belt around my waist."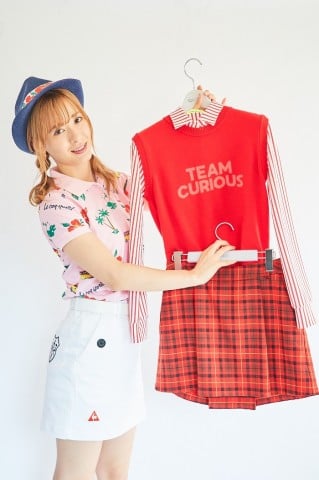 Last but not least, the layered style from VIVA HEART. With an eye-catching red base color, a checkered skirt and striped shirt, it is vivid enough to attract attention on a course.
"It's a combination of flashy items. It's okay to be this flashy on the golf course. The ribbon on the back of the skirt is also cute."
We mentioned cool, casual and girly outfits, mostly for women, but we also asked what she thought is cool for men to wear.
"I like seeing turtlenecks with collars that aren't too high, combined with tight-fitting pants. Also, this isn't really about dressing up, but I also love to see those in good shape (lol). If you are a man who wants to start playing golf, this is a good start for your coordination."


Her future goal is to "produce golf wear"
---
Currently, Ikuta-san is constantly involved in golf-related activities, including regular TV programs and magazine columns. She told us about her future goals.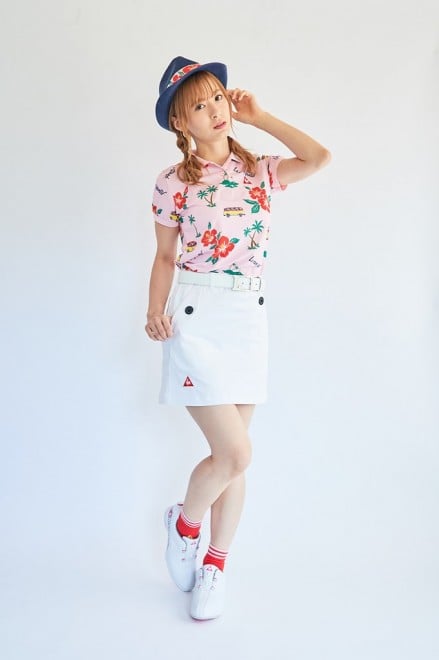 Recently, the number of women who take up on golf has been increasing, and some of my fans have taken up the sport because they want to wear matching outfits with Ikuta-san. There are only a few idols who are able to play golf, and if that makes the attention go to me, I would like to make the golf industry more exciting. So in the future, I would like to produce golf wear. I'd like to make things more exciting by producing fashionable clothing people can wear in town. I would be very happy if I could make that happen someday.
(Interview and text by Masanori Suzuki; photography by Mayuko Yamaguchi)
---
Original article:
https://www.oricon.co.jp/special/53452/
Translated by: ©Eriponderful World